What is Software Development ?
Software development is the process of conceiving, specifying, designing, programming, documenting, testing, and bug fixing involved in creating and maintaining applications, frameworks, or other software components. With the help of software we do work and it's make our work easy and smooth.
In today's time every business needs a software,either it is payment software, food software,online booking software and more….
Why Your Online business Needs Software ?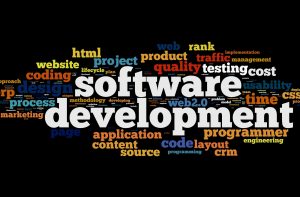 Software is needed for every business,either it is small or large. In today's time everything is online and  customer are more smart than before.They want a better facility in all types of service. so every business requires a software to manage, implement and serve a better strategy and better achievement..
With the help of a software a business can manage all his/her online activities from one place.From their staff to customer ,and from customer to their brand in one or more place.
F2F Customer Interaction :
Feedback is very important to run your business online. When we see our weakness then we try to improve our performance in a better way. For this we require feedback of our customer and we try to make a interaction with them. So that we can know our strong and week points.
Software helps us to manage all our finance and online records ,purchase ,payment,transactions record .We don't require any off paper pen work to maintain our records and essential information.
Send an email : info@clickncash.in
Book an appointment : 8076618865